Much of the urban transformation in major metropolitan cities of India is taking place on the peripheral/peri-urban boundaries of the city. The urbanization of agricultural lands has been identified as a key state strategy to undertake planned development in metropolitan cities and there has been a considerable shift in land development and planning models adopted for urbanization of these agricultural lands.
Shifting from a state-led comprehensive land acquisition and top-down master planning model towards a more market-led and private sector led models such as land pooling, land re-adjustment, and town planning schemes, the state has minimized its role especially in land development. In this context, the article discusses the land pooling policy introduced by the Delhi Development Authority (DDA), by undertaking a case study of a peri-urban village called 'Neelwal Village' in Delhi.
Villages located in peri-urban areas provide a unique interaction of social, spatial, economic, and environmental mechanisms of a place. These villages, located on the periphery of a city, are engulfed within the urban boundary by declaring them as urban or development areas, even though there exists a rural character within the village. Due to poor implementation of Master Plan provisions and lack of foresight planning, the villages located in peripheral areas of Delhi saw unauthorized colonies and slums spiralling up.
Related articles
As a result of the continuous rise in housing demand, influx of global capital, shift in agricultural patterns and a mismatch between housing supply and demand, agricultural lands surrounding these villages located on the outskirts of the cities are being urbanized.
DDA has come up with a market-oriented Land Pooling Policy as a planning tool to undertake development in 110 urban villages of Delhi. This marks a tremendous shift in the approach of DDA in land development from the earlier state led land acquisition policy. After 4 years of enactment of the revised policy in 2018, the development in the proposed sectors is yet to take place.
Village landowners are still apprehensive about giving their land under the land pooling policy for multiple reasons. The landownership pattern in these villages provides interesting insight to analyze the current roll-out of the policy. For instance, in one of the peri-urban village, i.e., Neelwal, a significant amount of land parcels are already been bought by private builders and developers ever since the land pooling policy was first rolled out in 2013. With the participation of private players in the land pooling policy, the village landowners constantly referred to the competition between them and developers and how the latter will benefit in the long run.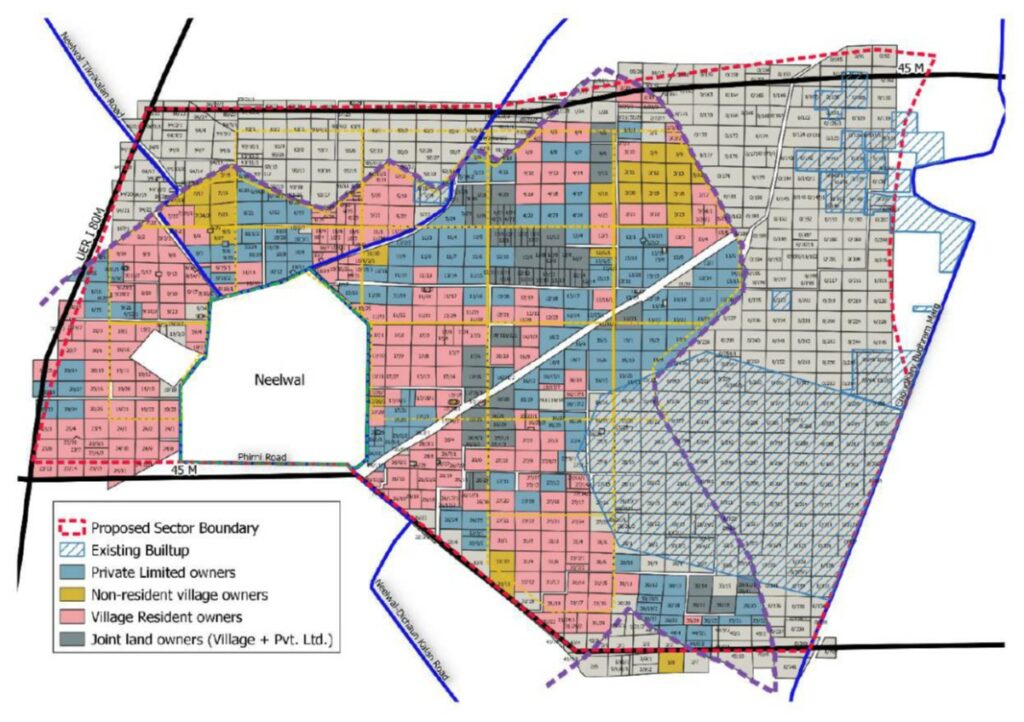 Village landowners talked about the same issues in detail and said, 'a landowner who owns land between 1-2 acres will either have to collude with a developer or form a group with other small landowners to be part of the consortium. Developers will first develop their land rather than ours.' Further, the ambiguity over the implementation of the policy remains a cause of concern for landowners to register their land under the policy. The issue was highlighted by villagers in Neelwal. They reported that, 'there is an apprehension within villagers that, if it is directly registered under DDA, we never know when would the development take place and for how long the land would remain like this. How will we feed our children, what will we eat?.' Some of the village landowners have decided to not register their land under the policy because they are unclear about the policy provisions.
With a poor response from villagers in giving their land for land pooling policy in most of the proposed sectors, DDA is now considering amending the policy and necessary acts to speed up implementation of the policy. The villagers too, want to reap the benefits of future development in these areas, but not at the cost of their ancestral and agricultural lands. While speculation around land continue, and is further expected to increase, with each stakeholder expecting to benefit and make profit in the longer run, it is important to focus on providing inclusive, affordable and accessible housing for poor income groups, and even the small land owners inside the village. The State has to play a pro-active role in transparency, availability, accessibility, and delivering of information to all the stakeholders in order to achieve an equitable form of development.
Author Bio
Vipul Kumar: Vipul is an Urban Planner from SPA Delhi. He pursued Masters in Urban Policy & Governance from TISS, Mumbai and is currently engaged as Manager, India Regional Office at UITP.
This article was published in the Planning Times Magazine Issue- 01, April 2022.