Introduction
Akon City is a futuristic smart, high styled and solar -powered city proposed on an area of 2000 acres in Senegal, Africa. Inspired by Marvel's movie, Black Panther, and its fictional city of Wakanda, the Sengalese Singer and entrepreneur, Akon, perpetuated the idea of a technologically advanced city and flexible infrastructure. The project of Akon City was announced in 2018 by Akon along with the Senegal Minister of Tourism, Alioune Sarrin. With a smart city approach and vibrant community development, the project vision is to create a business district and high-rise residential area with focus on education, healthcare, technology, media, entertainment and sports facilities.
According to Akon, the Akon City will be the future city of African Societies and will have pretty much everything from luxury resorts to high condos, a stadium, eco-friendly tourist centres, and shopping malls. The artist says, "If it works, we will scale it out to all the other countries in Africa so all the cities are connected". For the project in Senegal, a 10-year deadline has been proposed for the building of the city. The cost of the project for building and executing the city amounts to 6 billion dollars, which has been awarded to a US-based Consulting and Engineering firm, KE International. The architectural designs will be led by a Dubai-based consultancy, Bakri & Associates Development Consultants, under the guidance of KE International.
To attract businesses, the Government of Senegal has offered tax exemptions to companies investing in Akon City. However, this exemption is only valid if they invest more than 1 billion dollars. In addition, the state will provide free electricity and water supply to new businesses.
Further, the city will be built around a blockchain platform and will be powered by its own cryptocurrency, AKOIN. As per sources, AKOIN will allow citizens to be more independent during the fluctuating African monetary systems.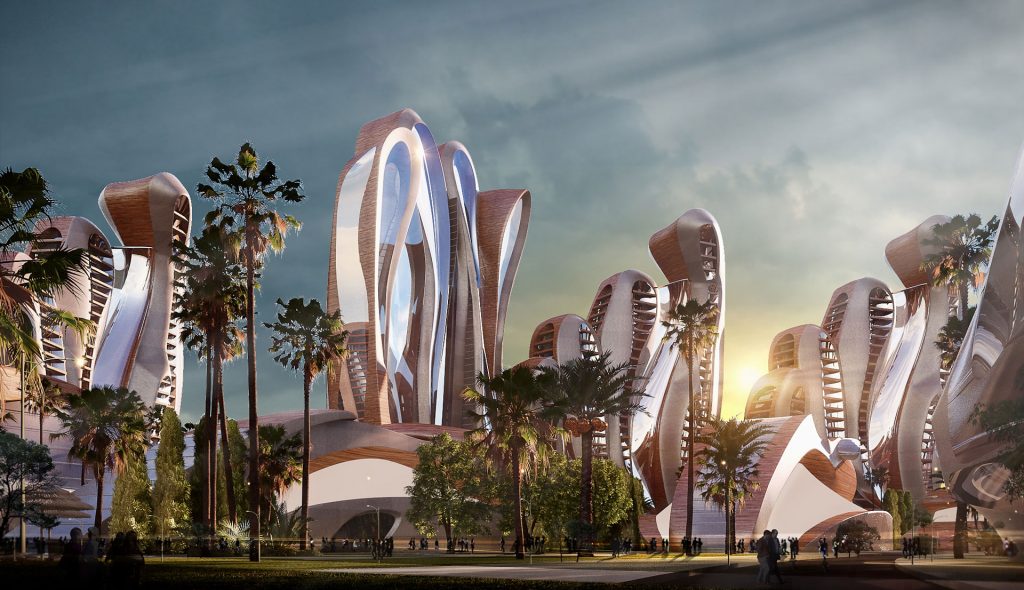 Concept Visuals for the futuristic AKON City
Location and Connectivity
The location of the city is at the heart of Dakar, which is one of the largest cities in West Africa. It has a population of about 4 million people. The main road that connects Dakar to other major towns is called National Route 1 (Route de la Mer) and runs through the middle of the city. The city is connected to all parts of Senegal via national roads.
There are two airports: Senegalese Airports Authority (ASDS) and the Dakar International Airport. The latter is the only international airport in the country.
Akon City will be located near the port of Dakar, which means that it will be easily accessible for tourists and investors. Moreover, there are plans to connect the city to the capital of neighboring Mauritania via a bridge over the River Gambia.
Site location of AKON City in Senegal
Features of Akon City
Akon City will have several features that make it different from other cities in the world. Some of these features include:
Self-sufficiency: All utilities such as electricity, water, and gas will be provided by the city itself. There will be no need for centralized providers.
Smart and sustainable energies: The city will be powered entirely by renewable energy sources including wind, solar, geothermal, hydroelectricity, biomass, and biogas. It run entirely on renewable energy through Akon's own solar-power project, Akon Lightening Africa.
Blockchain: The blockchain technology will be used to manage the city's data and transactions. This is further explained below.
Smart City infrastructure: The city will feature smart technologies like artificial intelligence, robotics, the internet of things, and autonomous vehicles. The residents of Akon City will also enjoy unlimited Internet access at zero cost.
Social Infrastructure: A special emphasis will be placed on educating the youth of the region. Thus, enabling various educational institutions like universities, colleges, schools, and training centers. The city will also feature well-equipped hospitals and clinics, media and entertainment outlets, and sports facilities.
Eco-friendly tourism: The city will be a hub for tourism in the region. It is designed to accommodate visitors who want to experience nature and culture.
Digital identity: Every person who lives in Akon City will receive a digital ID card. It will contain information about the user, his family members, and his property. This data will be stored in a distributed ledger system.
Decentralized governance: All decisions regarding the development of the city will be made through consensus voting. Each citizen will vote for the projects he wants to see implemented.
Community development: Akon City will focus on community development and social inclusion.
Planning Design and Principles
Senegal's plan for development will be a mixed-use development, catering to both the country's growing economy as well as its neighboring countries. The design of the futuristic city will be based on an informed understanding of the past with strong community-based culture, local traditions, and heritage. In addition, open spaces will be surrounded by native trees and plants, which will merge into the surrounding landscape. According to the Akon City website, 'the pathways linking the buildings will be a reinterpretation of the human geometry of communication.' Moreover, the city will be built around three main principles of awareness, inclusiveness and sustainability.
Phases of Development
In 2019, the first phase of construction started with the aim to complete by 2025. According to the plan, the city will consist of three zones: commercial, industrial, and residential. Firstly, the commercial zone will include hotels, restaurants, shops, banks, schools, hospitals, clinics, offices, museums, cinemas, theatres, casinos, etc. The second zone will cover the industrial sector, including factories, warehouses, logistics centers, food processing plants, research institutes, educational institutions, etc. Finally, the third zone will include high-end residential areas. It will be equipped with modern amenities such as swimming pools, gyms, spas, tennis courts, golf courses, etc.
Phase 2 of the Akon city will run from 2024 to 2029. It is expected to end with a complete city running exclusively on AKOIN cryptocurrency.
As stated above, Akon City will be a self-sufficient city and will generate its own energy. Solar panels will be installed on rooftops of buildings and apartments. Furthermore, the city will use wind turbines and geothermal power stations.
Site Plan of AKON City
Blockchain
AKOIN will be the official currency of Akon City. Its value was pegged to the US dollar in 2018. The coin can be used to pay taxes and fees, buy goods and services, and make payments online. AKOIN will be backed up by gold reserves stored in Swiss vaults. Further, the reserve amount will be equivalent to 10 per cent of the total circulating coins. According to the project team, AKOIN will be fully decentralized and will not require any intermediaries or central authorities. Therefore, it will be impossible to manipulate the market price. Above all, the city will have its own blockchain platform, which will allow users to access their wallets from anywhere.
Critics of Akon City
The idea of Akon City as a technologically advanced city was conceptualized for the people of Senegal, where most people are living in extreme poverty. Therefore he wanted to create cities for everybody, and at the same time, improve the economy and promote development, especially for the youths, by creating thousands of jobs. Some experts believe that the project has potential and that it should be supported. Others are concerned that the city will be expensive to maintain, and the infrastructure will quickly collapse if there aren't enough resources available. Some critics believe that the project does not provide enough details about how the city will function. Moreover, they argue that there are no real plans to implement all the features mentioned in the whitepaper.
In one of the interviews, Ola Uduku, an Associate Professor in Architecture and Dean for Africa at the University of Edinburgh, also stated that West Africa has a rich architecture, and reflections of African Modernism have been talked about in various books. He believed that instead of offering a project to an entire new entity, Akon could have worked together with the local planners and architects from West Africa to bring about more democratic plans and proposals for the futuristic city of Senegal.